High Speed Imprinting


Coupon Code Imprinting
We develop random character codes to imprint on your package for redeemable discounts on product and prizes
Capable of a wide variety of font sizes and styles with very tight registration






2D Quick Response Codes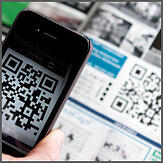 Quick Response codes, or QR codes, are an end-to-end marketing solution that allows your business to make its offline materials interactive. Quick Response codes have become increasingly popular due to their large storage capacity (roughly 3 kb) and ability to link the consumer with an interactive brand experience. When the consumer scans a QR code from your product's package using a camera-enabled smartphone, he or she may be directed to a website, shown a video or prompted to redeem promotional material. With a QR code, your business can engage its consumer while simultaneously compiling important analytics. Quick Response codes can gather detailed metrics like demographics, repeat scans, geolocation, and more.
QR Imprinting at JPG
At Jay Packaging Group, Quick Response codes can be directly imprinted on almost any carton to serve as a link to information, entertainment, and interactive experiences in the digital world. The QR code's size is directly related to the amount of data contained within the code (i.e. more data makes for a larger code).
License-Free
The use of QR codes is free of any license. The Quick Response code is clearly defined and published as an ISO standard.
Consumer Friendly
Free code-reader applications can be downloaded to any camera-enabled smart phone. About 82 percent of phones on the market today have camera abilities, and the number will grow closer to 100 percent in the near future.
Product Uses for Quick Response Codes:
Give instructions on how to use a product or service

For coupons, loyalty transactions and promotions

For store locators and product reviews

For email, Facebook and social applications

For new product introductions, company news, and press releases